I am currently out in Malaysia commentating on the 'QNET Asian Champions Trophy' hockey tournament with fellow Commentators Charlie Brougham (middle) and Solomon Casoojee (left). Say hello fellas….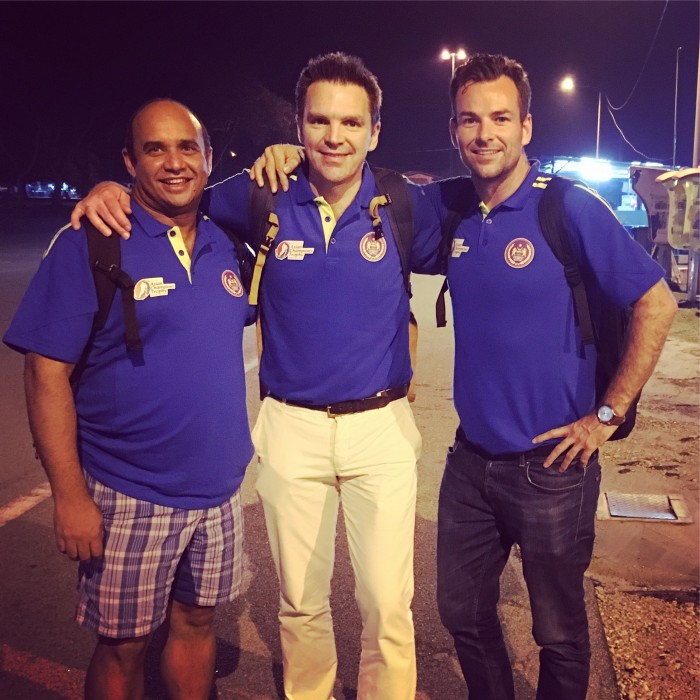 Boys in blue – Star Sports Commentary Team 2016
Today we had the morning off, so Charlie and I decided to visit one of the local tourist attractions here in Kuantan. This is Sungai Pandan Waterfalls which is 25km from Kuantan (about 45 minutes by taxi).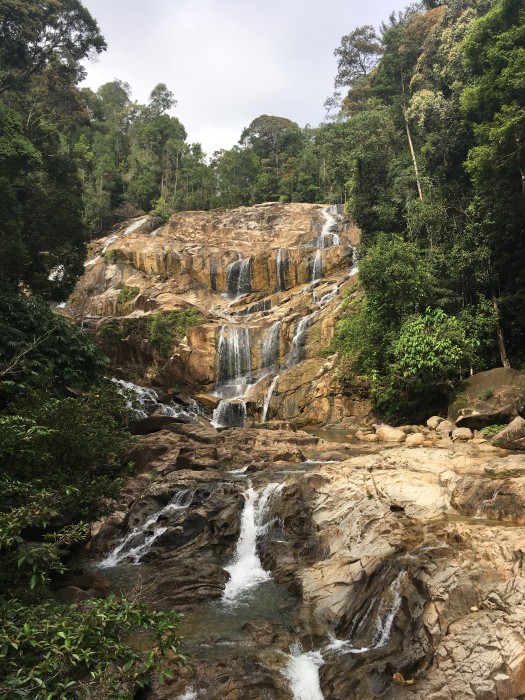 "Don't go chasing waterfalls!"
That's a music reference by the way! Click here to listen and read on. Thanks for the advice TLC! But that's exactly what we're here to do! So, off we set on our Indiana Jones style adventure to the top of the waterfalls. It only took us about 10 minutes to get to the very top. Well worth the extra effort for the stunning view from above the rainforest canopy.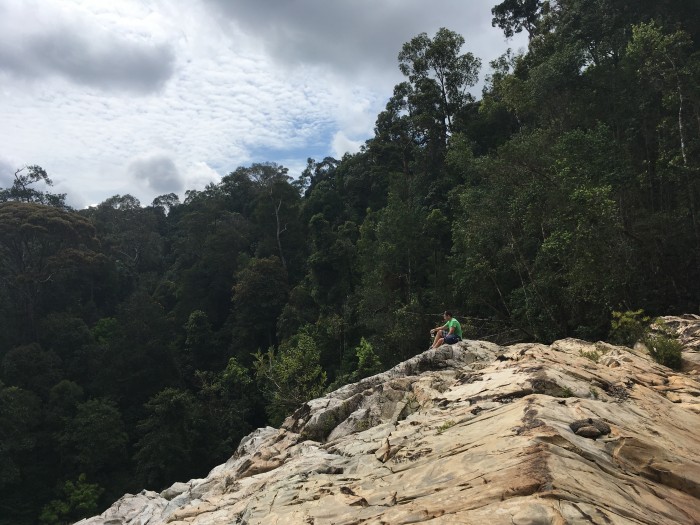 "Charlie time"
Having reached the top of Sungai Pandan Falls we were confronted with this stunning view looking up-stream…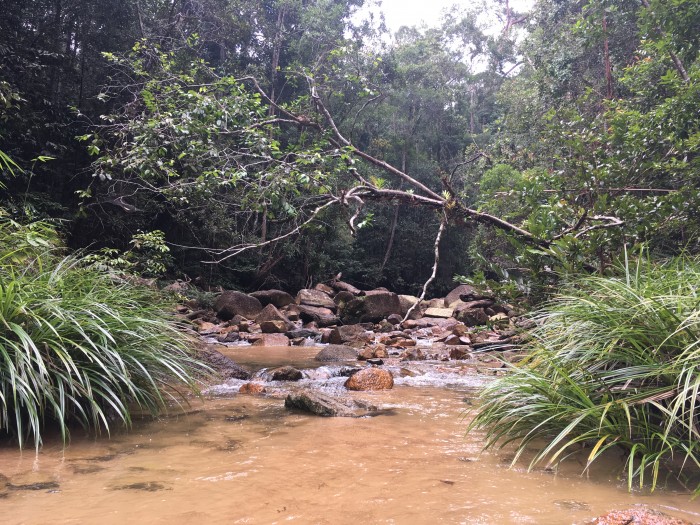 I know exactly what you're thinking! 
You're thinking, "I wonder what's around the next corner?!" Us too! So, off came the shoes and socks and off we pottered upstream, over boulders and deeper and deeper into the rainforest, driven on by our thirst to see what was around the next corner, and the next corner and the next corner!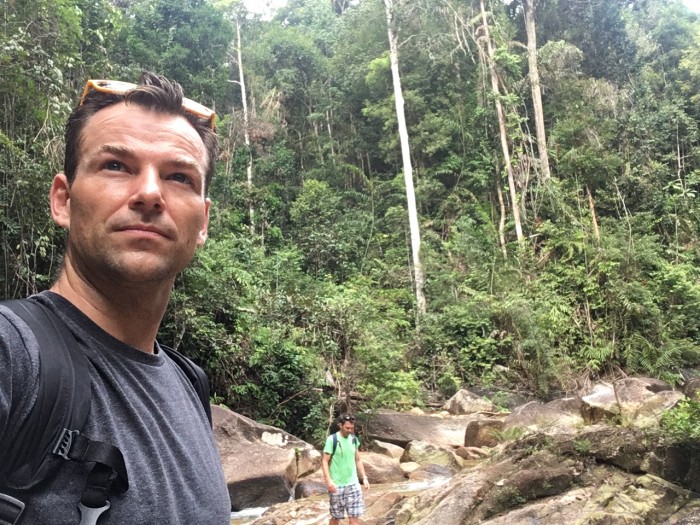 Did you see that Charlie?
After about 20 minutes my mind began to wonder. What if we were being stalked by a tiger!! Not the best thought to have to yourself when you're out in the open, in the middle of a tropical rainforest!! And certainly not something you should share with your co-commentator!!
Imagination running wild!
It turns out Charlie's imagination had been equally creative and he was actually more concerned about being washed away by a flash flood. Not sure which is worse? Drowning or being mauled to death by a man eating tiger? Did I also mention the venomous spiders that live in this part of the tropics? Oh and the poisonous snakes!!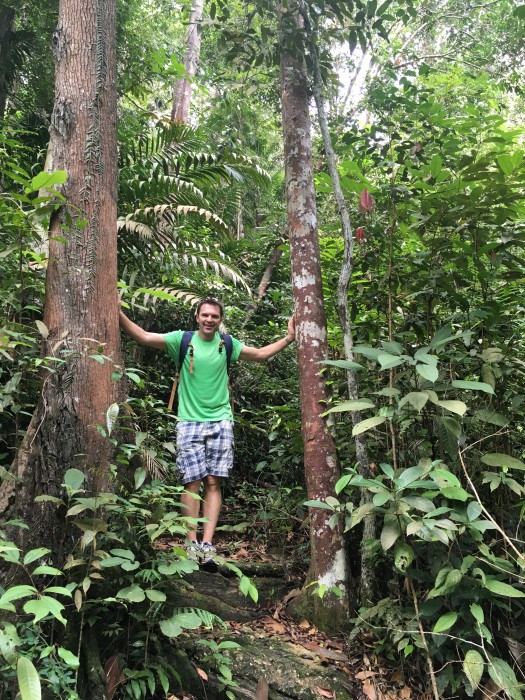 Not sure I want to see what's around the next corner.
Also, not sure Star Sports would be overly happy if both of their lead commentators went M.I.A. in the Kuantan jungle!! So we decided this would be a good time to turn around and we headed back to the base of the waterfalls for a nice, refreshing swim.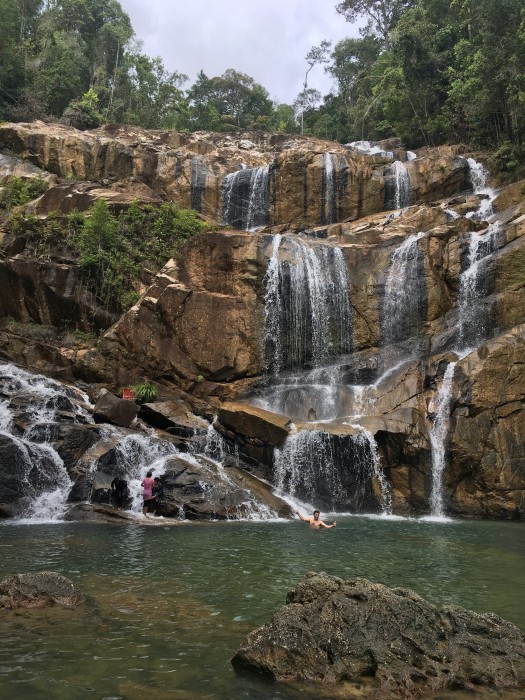 Absalom's Water vs Life Theory
The Jungle does strange things to the human mind and it got me thinking (Oh look out!!) Take a closer look at the picture above and notice the multiple paths the water takes to reach it's final destination at the base of the waterfalls. No matter what gets in it's way, the water (with the help of gravity) eventually finds its way down the rock face and into the pool at the base of the waterfall. I watched this calming display for about 2o minutes or so and ended up drawing my own parallels between the movement of water and our own lives. Without wanting to sound too morbid we are all heading for the same "destination", but what happens between 'here' and 'there' is totally up to us and is largely within our control. Life naturally takes us off in all sorts of weird and wonderful directions, and there is no doubt it's always going to throw a few obstacles our way. So, it's up to us to navigate our way past these obstacles the best way we can.
I think what I'm trying to say is that we're fortunate enough to be able to choose whichever path we want to take in life, so be proud of who you are and make sure you take the path that feels right for you. There is no 'right way' or 'wrong way', there is just 'your way'. This is your life.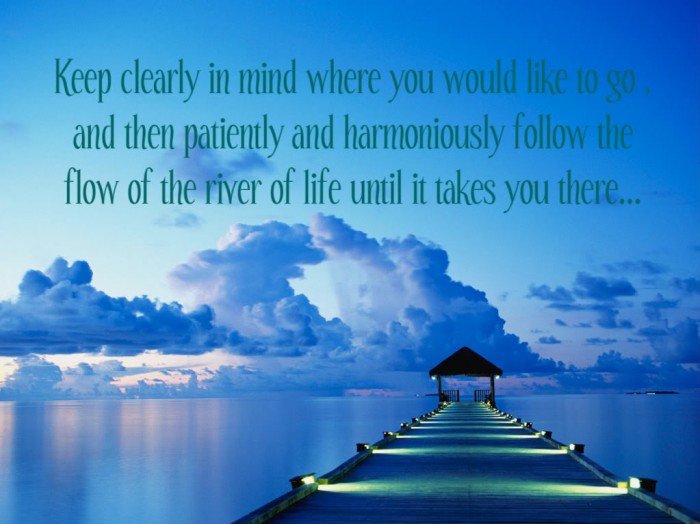 Pretty deep!!
Definitely something to mull over next time you stumble across a cascading waterfall or a meandering river. Also worth bearing in mind the average adult human body is 57-60% water (The brain and heart are composed of 73% water) So we are all just little droplets of water, flowing down the river of life! Enjoy the ride! 
 MA