Here's a short article I wrote for the Millfield Chronicle about my Olympic Hockey experience.
FYI – Millfield was where I was at Boarding School between the age of 13 and 18.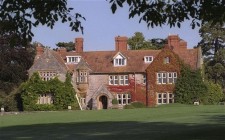 Presenting at The 2012 Olympics
by Michael Absalom (1993-1998 Hollies)
Twitter: @MichaelAbsalom
Did you know Millfield has been represented at every Olympic Games since Melbourne in 1956, boasting a total of 54 Olympic athletes among its alumni?
I'm sure most of you read the article in the Telegraph over the summer which revealed Millfield was the highest represented British school at the 2012 Olympic and Paralympic Games, with a total of nine representatives spanning seven sports. A massive achievement and one which made me incredibly proud to be an OM (Old Millfieldian). But here's another Olympic tale, from a slightly different perspective.
During the Olympic Games myself and fellow TV Presenter Abi Griffiths (1992-1997 Southfields) were lucky enough to be working down at a couple of the venues. I was based down at the Riverbank Arena, which was the home of Hockey for 2 weeks. Abi  popped in occasionally to keep me company, but spent most of her time posted down at Horse Guards Parade for the Beach Volleyball. Here is the famous "Smurf Turf" at The Riverbank Arena in all its blue and pink glory, with the Olympic Stadium in the distance to the south. This was my favourite view of Olympic Park and an image which will stay with me for a long time to come.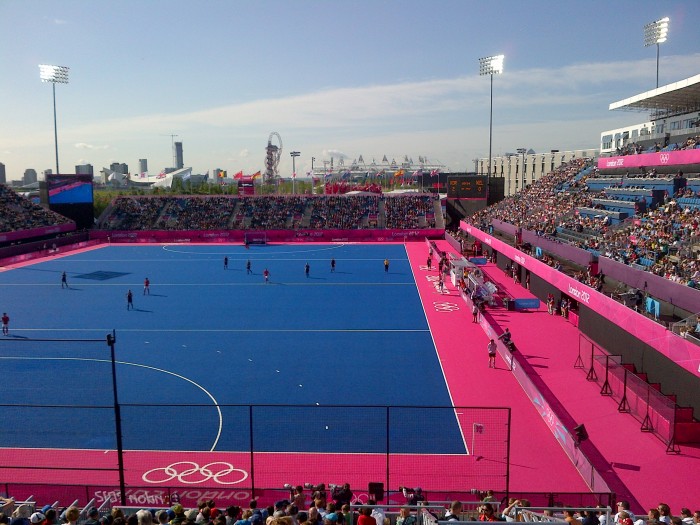 Whilst at school Abi was a very keen Hockey player and was also lightening quick over 200m. Look out Usain Bolt! In fact I wouldn't be surprised if she still holds a couple of the school records?! During my time at school I loved playing a bit of Cricket and in my final year captained the 1st XI Hockey side, which contained the likes of Richard Mantell, Simon Mantell and Nick Brothers. (All 3 of whom were in the GB Hockey Squad)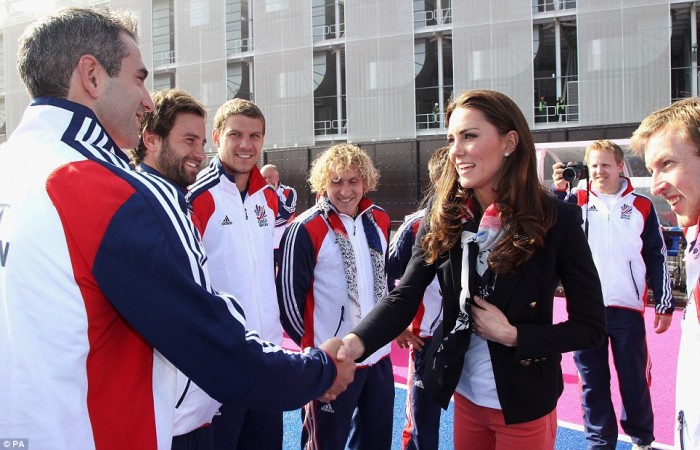 Here's Richard meeting The Duchess of Cambridge earlier in the year, with Nick along side him, grinning like a Cheshire cat!! Sadly non of the lads made it into the final squad of 16, which competed at London 2012. Richard made the squad of 18 and played his part behind the scenes, but didn't actually get any pitch time. Simon sustained a nasty ankle injury  ahead of The Olympics and had to have an operation on it ruling himself out of contention .Whilst George Pinner was picked ahead of Nick Brothers to back James Fair up in goal. I can only imagine how disappointed all 3 players must have felt having missed out on selection by the narrowest of margins, but they should feel immensely proud to have been a part of the GB Squad and the London 2012 legacy.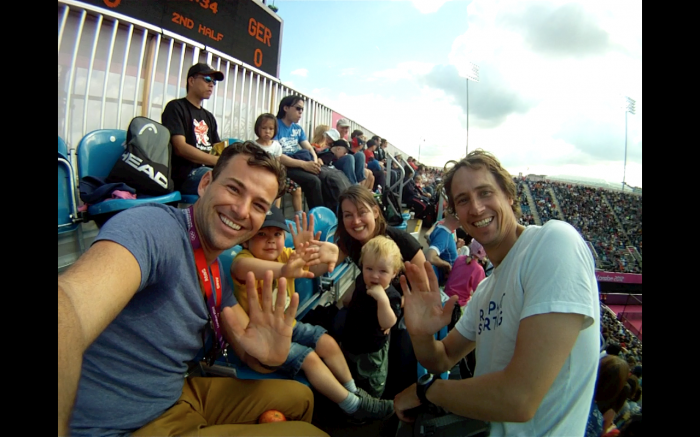 The main role for Abi and I was to ensure the crowds at our respective venues were having the time of their life. Here I am with my good friend Mark Towsend and his family behind the goal in the North stand. He and I actually worked together as ski instructors in Canada before I became a TV Presenter. Here we are in action 10 years earlier!!!
I'm sure those of you that were lucky enough to get your hands on tickets will agree, the Olympic 'buzz' was something else. On a personal note it was a total pleasure to be involved and to have the opportunity to interact and interview so many wonderful people. My personal highlight was getting the 16,000 strong crowd down at The Riverbank Arena involved in a sing off. Stand Vs Stand, then all 4 stands joining in together. It's probably the closest I'll every get to becoming a Rockstar!! Here's the moment the East stand 'let it rip', with me in the middle of the pitch and also on the big screen!!
In true Millfield style Abi and I were both incredibly competitive about finding celebrities and sports stars to interview, but I have to say Abi absolutely rinsed me!! So the top step of the Presenter podium belongs to Miss Abi Griffiths for chatting to the likes of Torvill & Dean, Dame Kelly Holmes and Lord Coe, to name just a few!!
You can follow Abi on Twitter if you like? She is currently working on the Paralympics covering Wheelchair Basketball and Goalball.
Finally here we are pitchside together at The Riverbank Arena with Sebastian Coe and Phillipa (one of the 70,000 volunteers at the Olympics). Team GB finished up with a whopping 55 medals in total, including 16 Golds and 2 of those gold medals were won by OM's. Congratulations to Peter Wilson, who claimed victory in the double trap shooting and Helen Glover who won a rowing gold medal. Great effort!
So what's next for me? Well, time to focus back on my Acting for the rest of the year. Lots of Commercial Castings and I have a couple of short movies on the horizon as well, so I'll defo keep you up to date on their development. In the meantime thanks for stopping by. See you soon. MA