So why have you never been to The Notting Hill Carnival?!! Maybe it's the thought of all those chaotic, claustrophobic crowds? Maybe you don't like loud music. Maybe your worried about pick-pockets? Well don't let your fear get in the way of experiencing what it truly feels like to be alive!!!
Whoop Whoop!!
This Bank Holiday Monday I attended The Notting Hill Carnival for only the second time in my life (last time was almost 15 years ago!). Why on earth have I been missing out on Europe's largest annual street party? What an idiot!! What I discovered was a kaleidoscope of colour, culture and heritage with streets full to the brim with joy and love. This was one of the most sensory experiences of my life and one hell of a street party!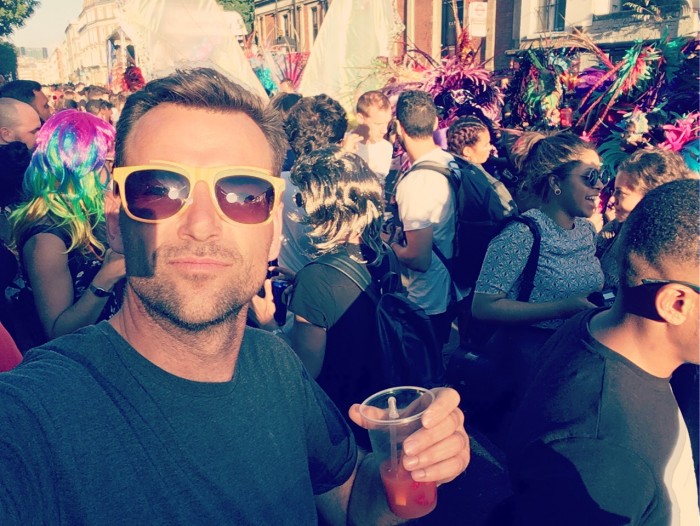 Flying Solo at Notting Hill Carnival 2016
Having arrived at Notting Hill underground station along with a few thousand other people I literally "followed the crowd" (embrace it!) in the direction of the sweet smell of jerk chicken and the heavy vibrations of reggae bass that was rocking through the heart of London, W11.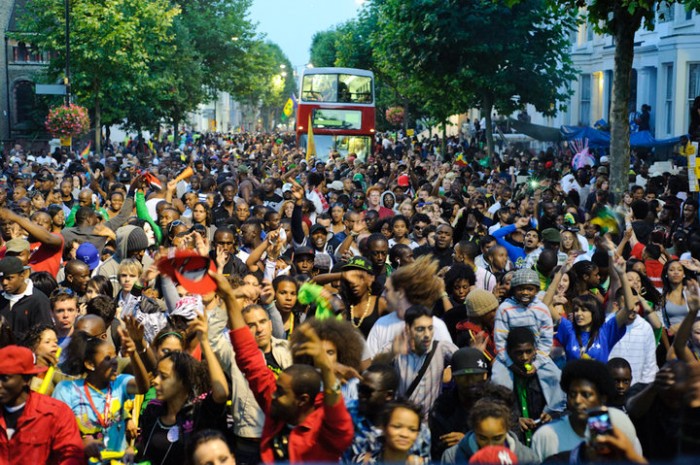 No sign of Hugh Grant or Julia Roberts!!
Within 10 minutes walk I was right in the middle of the action on Ladbroke Grove, with options to purchase whistles and flags on every street corner (do it!). Beer O'clock!! (1pm ish) Let me tell you there was no better feeling than an ice cold Jamaican 'Red Stripe' beer hitting your lips on a sunny Bank Holiday afternoon!! Delicious!! (i don't even like beer!) Beers can be bought from vendors on the streets (4 for £10) and if you're feeling a little more adventurous then there's always a variety of rum punches for you to choose from. (i did notice that the more experienced carnival goers had pre prep'd there own drinks – Noted!).
Now when I say "follow your ears" I mean it! Thats the best way to get around!! Go and explore. Worry about getting home later! There is of course the main Carnival procession itself (see map below) which is a wash with colourful carnival costumes.
 Carnival Route in Red
My personal highlight though was heading "off the beaten track" where you can find literally 100's of other individual street parties going on. I danced to everything form Reggae to Drum & Base. WARNING: Be prepared to have you brain wobbled like a jelly with the amounts of bass that the speakers generate! Ear protectors recommended for youngsters and tell Grandad to turn his hearing aid off!! He won't be needing that!!
Feeling the bass!!
Dancing is a must whenever you are at any Carnival!! It's such a wonderful way to express yourself and  I loved that everyone in Notting Hill was getting there groove on!
TOP TIP: If you're not a confident dancer don't worry,  just think to yourself "so what" and just go for it!! I didn't know what I was doing half the time. Just keep looking around at other people and start steeling their dance moves!! So much fun.
That's the spirit! 
After some pretty serious dancing I worked up a monster appetite for some tasty Jerk Chicken, Rice & Peas (if you're feeling brave enough try the hot sauce!). There are literally thousands of BBQ's cooking Jerk Chicken on the streets of Notting Hill, so you won't be disappointed and there was plenty of choice. Vegetarians look away now….
 Yummy yummy!! Jerk chicken in my tummy!!
I finished up my 2016 Carnival experience by playing one of my favourite games, 'People Watching'. I love it and could have literally sat there all afternoon watching how happy people were behaving in this highly infectious atmosphere. Opposite me I noticed an elderly couple, doing the same. I guess they were in there mid 80′. I noticed they were tightly holding each others hands and sharing this magical moment whilst feeding from the joy of others merrily dancing by.  Happiness breads happiness.
Smile!
So what did I learn today?
Firstly – It can be an incredibly enlightening experience to do something on your own. Don't be afraid to do it. Go and watch that film at the cinema this week or check out that art exhibition you've been banging on about for the past 3 months!! Occasionally it's quite refreshing to have some "Me Time" and reflect on all the things that matter most in your world.
Secondly – The Notting Hill Carnival showcased the human race at its very best, "living in the moment" and embracing the many joys of life. What a beautiful species we are when we are not fighting amongst ourselves. I was energised from watching all these wonderful people from all walks of life, celebrating together and embracing the same magical moment. Individually radiant and collectively energetic, thriving in the same joyous occasion. The Human Race at it's very best!!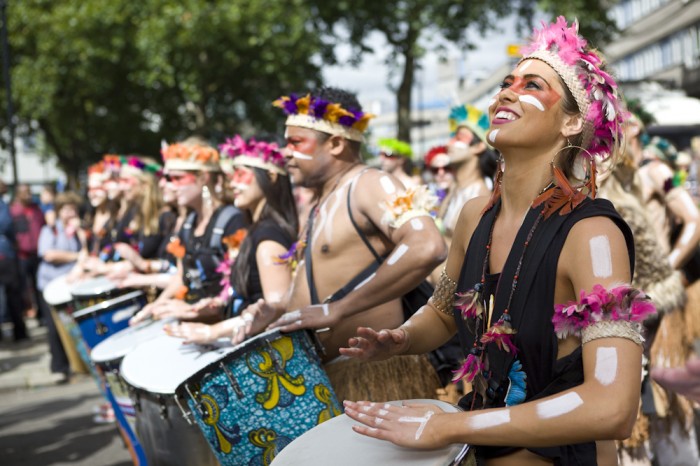 Beating to the same rhythm of life
Thank you for taking the time to read this blog. I look forward to seeing you at Carnival next year!! Follow you ears (and your noses!!) down to The Notting Hill Carnival 2017 (August Bank Holiday Weekend). Only 363 days to go!!
Thanks for stopping by. Have a great day : )
MA
❤️❤️❤️