Saturday 23rd June 2012
"Did you know 3 out of 4 of you will suffer from gum disease?"
FACT!! This also happened to be my first line in a recent television commercial I filmed for Colgate (toothpaste) out in Prague. I play a Colgate moderator, whose job is to highlight some of the early signs of gum disease and provide some solutions for our 'focus group'. This was my first ever TV commercial, so understandably I was a little bit nervous to start with!! Smile!!
As it happened everything actually went swimmingly well and the only real drama I had all weekend was that I almost missed my flight out to Prague, because my alarm didn't go off!! Never good to still be in bed at 08:30 when your plane leaves at 10:20!! But thanks to some pretty nifty driving from my London cabby I made the flight with 3 minutes to spare. I did however forget to pack some keys items such as clean pants and socks!! Whoops!!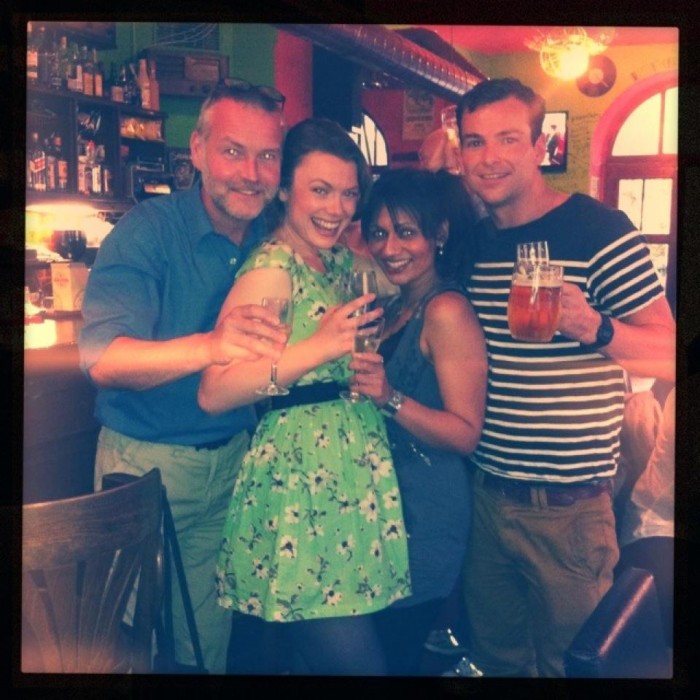 On arrival I met up with the other cast members Alex, Hannah and Ruby who had also flown in from London. It's probably worth pointing out at this stage that this photo was taken after the shoot and not before it!! Our Czech hosts took us all out to celebrate at a local pub in town and to watch England get knocked out of Euro 2012 by Italy on penalties. Thankfully the local beer and punchy pear shooters helped numb the pain of the defeat!!
Back to the commercial and here I am getting mic'd up by the soundman just before my scene and also having my final checks done by hair and make up.
I've got to say each and every member of the cast and crew was so professional, and made my job 10 times easier on the day. It was a very relaxed environment to work in and we managed to get the job done in the allotted time, which is always a bonus. Bish! Bash! Bosh!! "In the can!!" as they say.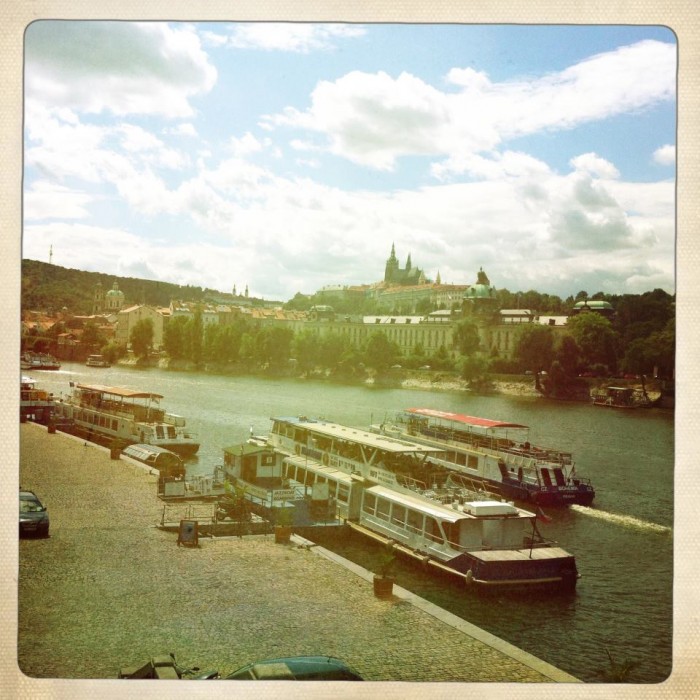 For those of you who've never been to Prague it really is a must! Such a beautiful city. It's located on the banks of the Vltava River and so easy to get to (only a few hours flight from London). The city has a somewhat medieval feel to it with its ancient castles and bridges and I absolutely loved the architecture in and around the town centre. It certainly helped too that the sun was shining all weekend and that the average temperature was around 28 C (82.4 F)  What a lovely weekend!
I'm not exactly sure when the advert is due to air in the UK, but I will of course keep you posted.