Over the past few months The Olympic Flame has been on an incredible 70 day journey around the UK. Click here to see a few highlights from behind the scenes.
Amazingly it managed to pass within an hour of each and every single one of us! Maybe you were one of the millions of people who lined the streets to see the flame in all it's glory? Who knows maybe you even got to have your photo taken with one of the famous golden torches? This one belongs to my good friend Polly Noble who carried the torch through Bexley on Sunday 22nd July.
8000 Torchbearers were involved in the relay itself as it wriggled its way around the UK. It started off in Lands End, on Saturday 19th May. It then travelled through over 1000 cities and villages on its way to the Olympic Stadium in London, where we watched 7 young British athletes light the final cauldron(s) on Friday 27th July at the opening ceremony. This marked the official start of London 2012 and the Games of the 30th Olympiad.
So where do I fit in exactly?
Well on its epic journey to London the flame stopped somewhere every evening around 7pm. I was waiting for it in Bristol, Cheltenham, Worcester, Southampton, Portsmouth, Brighton, Hastings, Dover and Maidstone. My role was to MC the evening ceremony which took place every night and culminated with the arrival of The Olympic Flame. This was always the highlight of my day, watching the final torch bearer of the day bringing the Olympic Flame towards me on stage, before holding it high in the air and lighting the Olympic cauldron at the front of the stage. Talk about a front row seat!!
This was the most impressive part of my Torch Relay experience. Being that close to the Olympic flame and feeling it's ferocious heat against my face. Listening to the re-action of thousands of people as they witnessed the lighting of the cauldron in their home town. Then standing back and admiring its beauty whilst dreaming of winning Olympic Gold!! All to the theme of 'Chariots of Fire'. It was one of those special moments in life when all the hairs on the back of your neck stand up and you feel exceptionally proud to part of something so important.
For me this photo really captures that moment perfectly. I'm thinking to myself  "This is amazing! I have one of the coolest jobs in the world!!"
Here are a few of my other personal highlights from the tour……..
Getting to meet Zara Phillips in Cheltenham was and absolute honour. She arrived at Cheltenham Race Course on her horse 'Toy Town' in front of 45,000 people on a glorious spring evening back in May. You can get a sense of how crazy this whole experience was by clicking here and watching the video. I even manage to make a sneaky appearance right at the end!!
We also had some great live music on the tour from the likes of Labrinth, Wretch 32 and Rizzle Kicks. As you can imagine these bands really got the crowd pumping, especially down in Portsmouth where we had a whopping 70,000 people 'rocking it out' on Southsea Common. This is by far in a way the biggest live audience I have ever presented in front of, so it was lovely to see some friendly family faces in the crowd that day.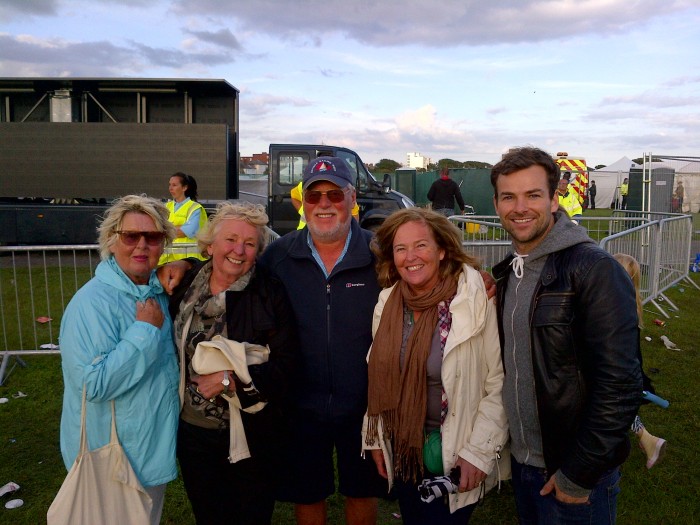 From left to right this is my Auntie Krysia, Auntie Julie, Uncle Malcom, and Mummy Absalom, Halina.
Another highlight of the tour for me was getting to interview some truly outstanding Olympians, who had been there, done it and returned home with a medal. The 2 standouts for me being Sally Gunnell and Sean Kerly. These were 2 athletes I totally worshiped as a kid, so to get to speak to them both about their Olympic experiences was a real treat.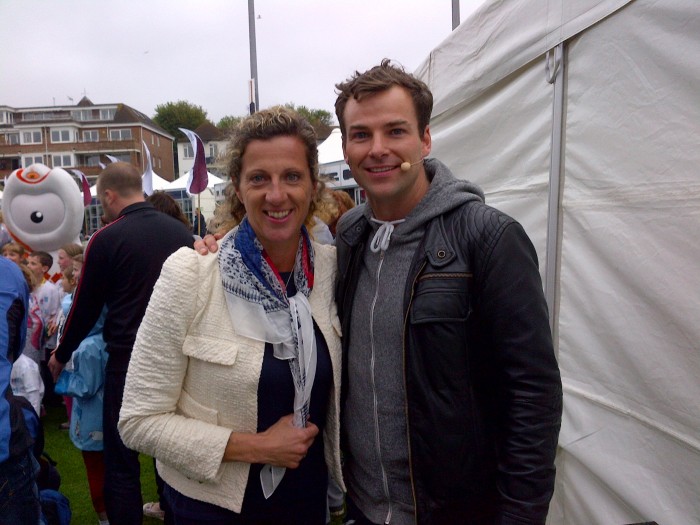 I clearly remember watching them both win Olympic gold. I was 12 when Sally won the 400m Hurdles in Barcelona in 1992 and 4 years before that I watched the GB Men's Hockey Team win gold in Seoul. They beat Germany in the final 3-1 with Sean scoring one of those goals and Imran Sherwani scoring the other two. The next day I bought my first hockey stick, aged 8. 10 years after that I earned my first England under 18 cap.
The motto for the London 2012 Olympics is "Inspire a Generation".
I am living proof that winning medals at an Olympic Games can inspire the next generation of kids to take up sport. I know Team GB medal winners this year will encourage the next batch of youngsters from the UK to take up a new sport. Sadly I never made it all the way to the top of my sport, but I did learn some important life skills along the way and still enjoy competing at a relatively high standard with Richmond Hockey Club.
The Olympic Torch Relay was a wonderful opportunity for me to meet some truly inspirational people, who have made a real difference within our communities. The support from the general public for this event was outstanding and the sheer numbers of people who attended our events was mind blowing. To be able to say I was a part of this whole experience feels fantastic.
To put it into context for you, I can remember exactly where I was on July 6th 2005 when London won the bid to host the 30th Olympic Games. I was working on a kids TV show called  X-Change and it was our lunch break in studio, so we all piled back to the office and fought for prime position in front of the TV to hear the result. If you don't remember what happened next then watch this link. When we heard the result back at Television Centre we went mental, just like those thousands of people gathered in Trafalgar Square. In that moment of ecstasy I knew 2012 was going to be a very special year and so I set my sights on being part of the Olympics. To have achieved  that goal 7 years down the line is obviously very satisfying.
So what's next?
Well, my next stop is the colourful Riverbank Arena, where I'll be covering some Olympic Hockey. I am going to be part of the Presentation team  for LOCOG popping up on the big screen within the venue. I can't wait to get in and amongst the 16,000 crowd every day. I'm really looking forward to making some new friends from all over the world.
Here I am with co-presenter Abi Griffiths (left) Seb Coe, and Phillipa (one of the 70,000 volunteers) It's the first time Hockey will be played on a blue pitch at an Olympic Games and they will be using a yellow ball. It's a very fast game to follow so this combination should make it easier to watch on the telly. That's the theory anyway!
The Women's final is on Friday 10th August and the Men's final is on Saturday 11th August. Let's hope Team GB can replicate the success of 1988 and inspire the next generation of hockey players. Will give you an update on all things Olympic in my next Blog.